Personalized Pens Promotional Pens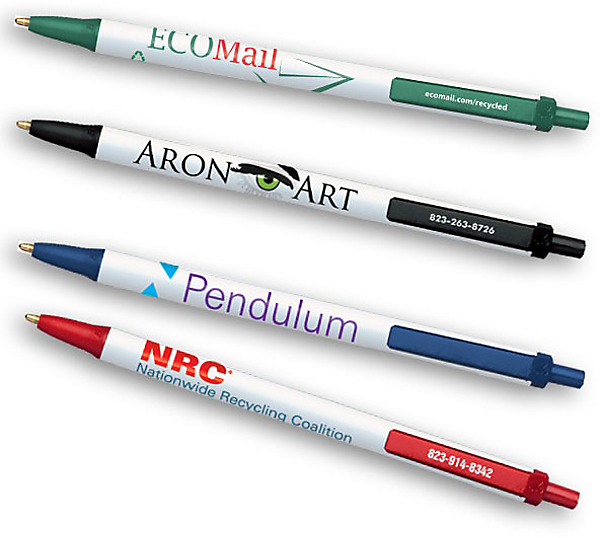 Personalized Pens are the Write Choice for Your Brand!
Tuesday, 03 July 2018

4

1963

1
Personalized Pens are the Write Choice for Your Brand!
It's no secret that JAVELINPEN firmly believes in the power of personalized pens. We'll go out of our way to recommend investing in custom pens any day of week, and we take pride in knowing exactly which type of cheap perosonalized pens are best suited to a particular company. We can't talk enough about it, really, and want to make sure you know why this is one of the best promotional products for your brand.
In case you weren't already aware, custom pens can help turn any startup or young business into a highly recognizable brand. And if your company is looking to expand, personalized promotional pens can be ideal in spreading your message to prospects. Best of all, a personalized pen is a comparatively inexpensive promotional product. Want to deliver brand impressions on a consistent basis? Promotional pens are the way to go! They'll give you the brand exposure you've been waiting for - at a surprisingly affordable value. Pair your promo pens with additional promotional products for your upcoming campaign, and you're really in for a successful advertising venture!
Potential customers, clients, associates and business partners will always appreciate a little generosity in the form of custom pens, but when your company's name, logo, web address and contact information are printed for recipients to see time and time again, they'll likely remember your business fondly. When it comes to promoting your company's image, custom pens are a no-brainer. Our selection of promotional pens are available in almost any style or color, and many of them offer unique features that will call some serious attention to your brand image.
The best part about our selection of cheap custom pens is we have a wide variety for you to choose from. Whether you're looking for classy engraved fountain pens or simple office supplies like custom BIC pens, we have just about every writing utensil you can imagine. Not to mention, you'll find personalized ballpoint pens, custom wood pens, and , all right here!
With so many design options to consider and with so many combinations of style, color, and imprint methods at your disposal, you're bound to find a promotional pens that will complement your business. All of our perosonalized pens are affordable, meaning you'll be able to order a bunch of these cheap custom pens for your next event. And as we mentioned before, there is no limit to how you get your logo on these branded beauties. From custom engraved pens to pens screen-printed with your logo, we can do it all!
Need a little more incentive? Don't forget that promo pens are among the easiest promotional products to distribute. Personalized pens are small, compact, eye-catching, and usable at any time of the day. If you're organizing a fundraiser or charity, hand your cheap personalized pens out to those kind enough to donate. If you want to boost workplace morale, distribute custom pens to all your employees. Want to make an impression at the next meeting? Offer a personalized pen to everyone sitting at the conference table. Need to reward your customers or clients for their loyalty? Send engraved fountain pens alongside their "Thank You" letter. The options are endless!
Keep in mind that when we say these personalized pens are inexpensive, we're not joking around! Our selection of custom pens range from the most basic to the most sophisticated of designs, so you're bound to find the right personalized pens for the right price. Whether your marketing efforts are directed at a specific demographic or a more general customer base, we've got the cheap custom pens you'll need to make your brand more memorable.

Your brand deserves to be represented with distinction, but there's no reason that distinction has to be costly. Personalized pens can be an affordable and effective addition to your marketing efforts. Contact JAVELINPEN today to order your custom pens!