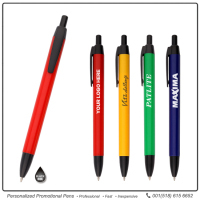 WideBody Pen Custom Pens Printed with Your Logo (#1001)
$0.25
Great price and great delivery time. Only wish I could have at least one more line.
Fast service; thank you! Was actually better than I expected, and these custom made pens are good!
It's perfect. Great price and awesome quality. You always nail it out of the park! I will continue to use your services as I am always blown away by how awesome everything is.
They were super fast shipping it to me, I love the pens! The printing on them is very clear and bold. They write smoothly and I will definitely order them again when I run low.
Love the pens. Perfect gift for my Client. Thank you!
Value for money. Quick turnaround time and imprint quality was perfect.
Really nice fine black ink and smooth writing pen. I did mine in all white with a light color lettering and logo, and its clean aesthetic look is amazing. I only like black ink in a fine point so it doesn't look sloppy when you are filling out a lot of forms, so this one does the job. Will re-order. Oh, great price too!!
nice pens, look good, write good, what more can I say.