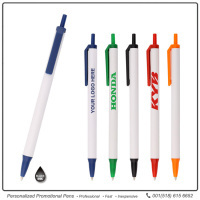 Bic Clic Stic Pen -White (#1034W)
$0.25
Good!Will buy from this company again. Great job. Love the pens.
The Custom made pens turned out to be exactly as what I had been expecting. Excellent- love the color. Very professional. Excellent!
Look nice and the W/orange color it bright and vibrant...printing is clear!!!
These pens are great! we have ordered them on several occasions. They are comfortable to hold and write with, great price, great pen!
Loved the numerous color options. It looks great. A bit wrinkled in packing, but happy with the product and printing.
Everyone loves this pen in the office. Many found it to be their favorite!
Perfect. And awesome imprint.