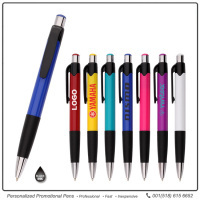 Carnival Pen (#1031)
$0.24
Nothing wrong with the pens really, they work fine. I just don't like the contrast between the pen color and the color of the graphics. Should have went with white but for some reason I didn't understand that the white blank space was a color choice at the time of ordering. Had it been outlinedI may have or I may just blame it on a brain fart.
Great pen. Loves the way it writes. Pearl white with the blue logo looks really sharp!
I ordered these for my Husband in three different colors. Overall they were nice but his name and company name had a line going thru them in two out of three of the orders which made me disappointed.
I purchased these products on behalf of my reunion class to present to the parents of the 2018 graduates. I really like all.
Great inexpensive pen for shows and sales meetings. Writes great and looks nice. Lightweight.
The pen is a little expensive but writes as smooth as butter
Very nice pen,Great product, was very satisfied with the outcome