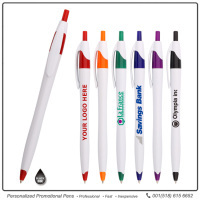 Javelin Pen (#1005W)
$0.17
Decent quality. Shipping price is a little hard to stomach if you need them soon.
Great pen at a great price! I love these promotional pens
Some easily broke and came apart, but overall it was good.
Really like this pen! It writes so smoothly and looks good.
This is the second time that we've purchased these pens. They are a favorite of the staff and of all of those who receive them from us. They look nice and feel nice in the hand. These are the pens that we plan to re-order for teh foreseeable future. Keep them in stock!
I loved that I could personalize pens without an outrageous price. Also, they write really really well! Everyone loved them at the baby shower.
Our logo looks great and the pen itself is a good pen! I am sure our employees and customers will love their ink pen.
Great buy, works perfect and last long, ink is very high quality and the color make them shine.I had to buy more and possibly will keep buying this product for a while.My customers loved them.
A very stylish, yet affordable pen. Writes really smooth and looks very sharp. Works great for anything from function to promotion.
it is a give away, the product is affordable, design and printing are as requeted, but Late for 2 days
I purchased the White/Black colored pen. I really like it! Already started giving them out to others. Pens work well and show my business information clearly.