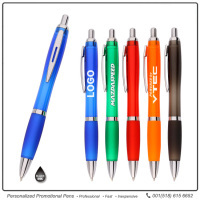 Marcello Satin Grip Pen -Translucent (#1002T)
$0.20
Got these personalized pens as a holiday gift for all the nurse's and staff on my unit. Was a hit.
Looks great, pen works well. Love the colors used. The writing is easy to read on the pen with our logo.
The product turned out to be great. Our organization has had a great hit with this product. I love your samples - very helpful in deciding which product to buy. Sisi Li was a great help - very professional and responsive. Great quality for the price.
I was pleasantly surprised with how easy it was to customize these pens. Their customer service is excellent, they respond promptly. The quality of the pen was not bad at all! Every one I gave this pen to showered it with compliments! I highly recommend this!
Pens arrived faster than expected. They were exactly as described. They do feel like you would expect a cheap pen to feel, however they write great. They did a perfect job on the customization for me too.
The pen is more lightweight than I expected but they write very smooth. The logo printed looked nice and neat.
Top quality in a very affordable cost. Pens were really nice and doesn't look cheap
The pens will be used as promotional give-aways for a non-profit.Great product
Great ink flow! nice look and light weight!
These will be given out to prospects, client, and partner Executives. We are very please with the quality and highly recommend this item.