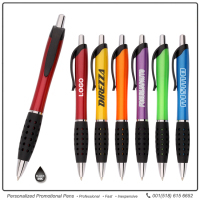 Mystic Pen (#1036)
$0.19
They are the best pens you can buy for that price. Thank you
We order pens for our plastic surgery practice to give out to patients. Pens are always a great way to advertise.
They are beautiful and are just what we ordered.
Exactly what I wanted. The Javelinpen was great at contacting me and getting what I wanted. Highly recommended!
I love these Mystic pens. They write well, and are light and comfortable to write with. Personalization looks good. Came in my favorite color scheme: red and black!
Love, but wish the imprint area had been larger.
Give 5 starsThey turn out Beautiful !
Easy to hold, great writing tool, and good cost to allow my customers a chance to have my contact information. This is a great pen, produced by a quality company. Well done!