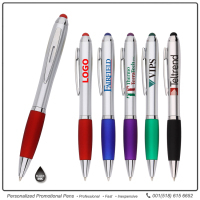 Silhouette Satin Pen Stylus (#i1026)
$0.21
Nice pens, great job with the stamping,but Shipping price is a little hard to stomach if you need them soon.
It was a quality product at a reasonable price. It's a nice product that does it job. Thank you JavelinPen
Got what I wanted and everything came out just as I asked. I have recommended JavelinPen to many people. the product arrived SO much faster than I thought. Excellent site and products.
The pens are great for medical offices. You can use them on your ipad.
These pens write so smoothly. The inscription is clear and durable.
I order these because they are high quality and good value. We use them in our daily work and they are promo items for our customers as well.
our sporting clays shooters are required to sign a waiver prior to the event. these pens are available to them and very often they disappear fast!I would recommend them.
Actually had this pen that we were looking for. Quick, easy ordering.