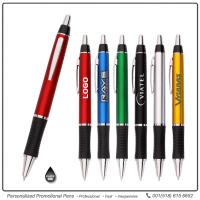 The Essex Pen (#1003)
$0.21
Great buy, works perfect and last long, ink is very high quality and the color make them shine.I had to buy more and possibly will keep buying this product for a while.My customers loved them.
Stylish pens. Ideal for business promotion.
I purchased the pens for my agency. The quality of the pen is exceed my expectation. Wonderful customer service.
Our teachers really liked these pen. They received them as a holiday gift from our Principal. Thank you
Excellent Pen. Nicely weighted
This order was great! It came fast and looked exactly like it was supposed to! Thank you!
These pens are a real hit with our customers; so much so that we go through 1,000 of them in no time! We put them out on our check writing counter at our bank for our customers to use and they make sure they take a few (or a handful) because they really like the feel of them, as well as how they write. We tried changing them once, but they made sure we knew that they preferred these pens by far!!
they arrived quickly and were packaged nicely, none of them were broken. They write well and we are very pleased with our order.
This pen is one of the best that we have ever ordered. It is lightweight, writes very smoothly and is comfortable to hold.