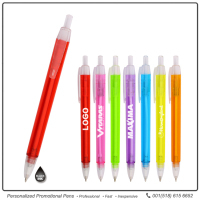 USA iBuddy Pen -Translucent (#1001T)
$0.31
I hand these out at work. People love them. The text is clear and looks nice. I will order more.
these came out great. I put my name on them dio people would stop stealing my pens. The writing is holding up well.
A really nice give-away for the business. the customer service was excellent! They've been very well accepted by our clients.that we never take likely!
The pens are terrific! They are smart-looking, easy to hold and write well -- what more can you ask?
Inexpensive but great product
The perfect pen for our Annual Meeting.